Hier ist er endlich: Mein Cee PlexWood Joystick. Nach langen herum probieren ist ein Joystick herausgekommen, der mit echter Arcade-Hardware und aus einer Symbiose aus Holz und Plexiglas daher kommt. Dazu ist dieser Joystick 100% kompatibel mit dem Amiga 2Button Support. Viele Amiga Spiele können nämlich mit zwei Buttons gespielt werden, was viel nicht wissen – wie ich festgestellt habe. Der Joystick ist natürlich auch für C64, Atari und andere Systeme kompatibel (9pol SubD). Der Joystick-Rumpf ist keine 5cm hoch.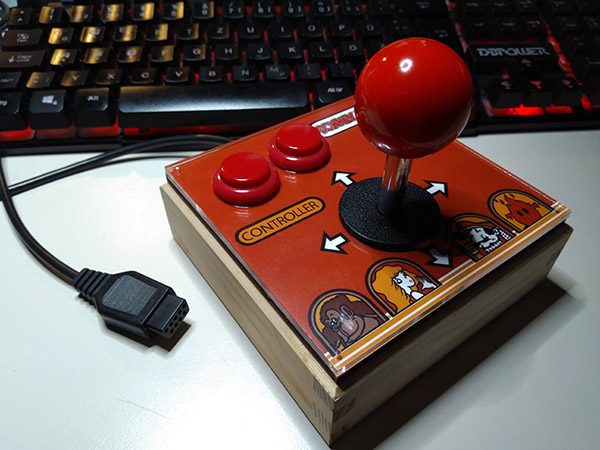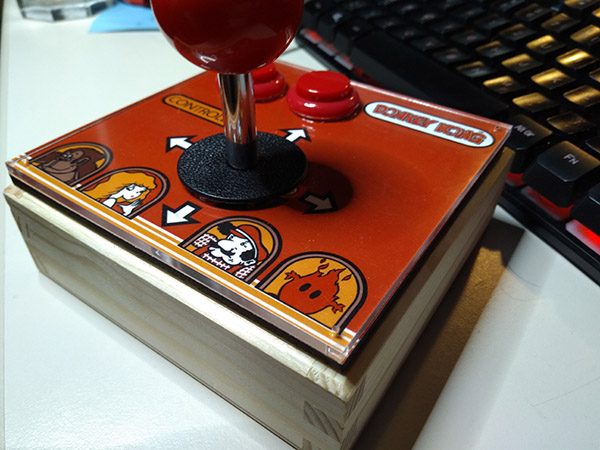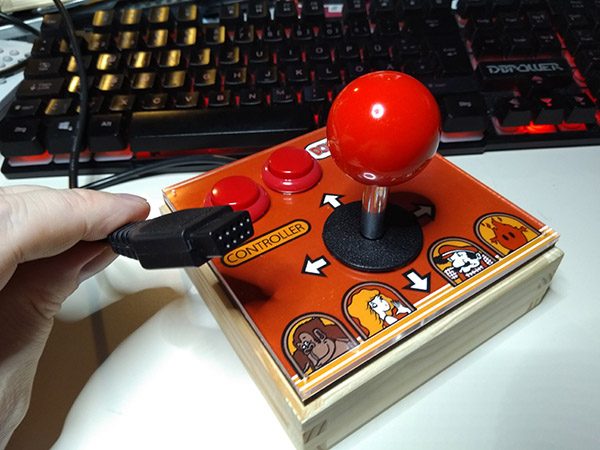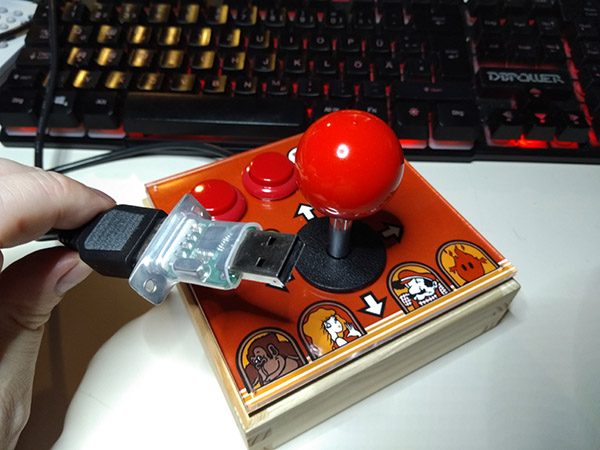 So könnte man den Joystick natürlich auch an einen PC oder Raspberry PI betreiben.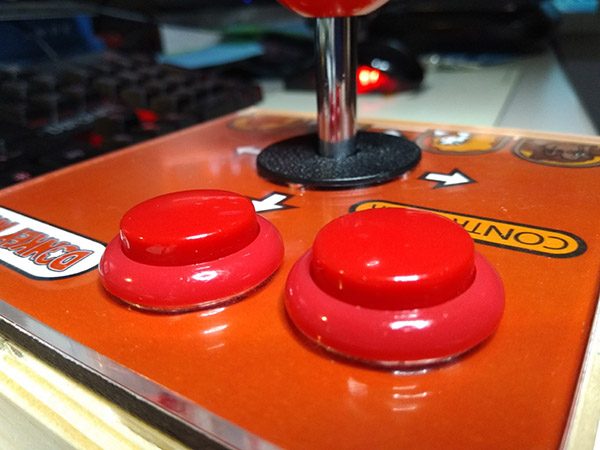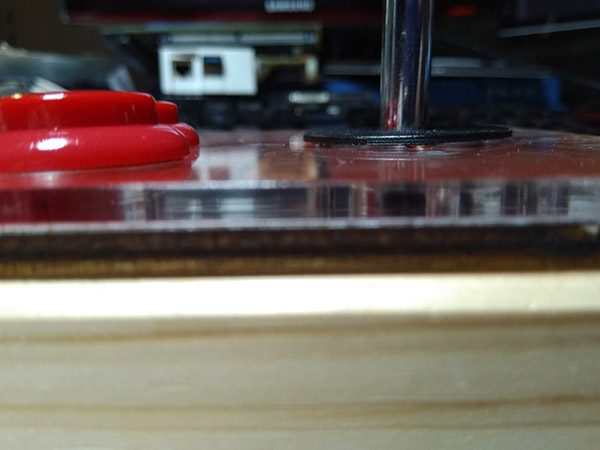 So kann nur ein Lasercutter schneiden, scharf und präzise und doch nicht scharfkantig 🙂
Für diejenigen, die einen Comp PlexWood Joystick haben wollen, hier ein Optionsüberblick:
– Freie Joystick und Buttons Farben Auswahl (Rot, Orange, Gelb, Grün, Blau, Violett, Grau, Weiß, Pink, Schwarz)
– Kann für Linkshänder angefertigt werden
– Freie Artwork Wahl. Ich brauche nur eine Grafik oder Bild von euch (Auflösung egal)
Extras:
– Kann auch für USB umgebaut werden (wird als Standard Joystick erkannt)
– Der Joystick kann auch lackiert werden (Ihr müsst mir nur eine Farbe nennen)
– Die Plexiglas Grundplatte kann auch als farbigen Plexiglas montiert werden (Es gibt Schwarz, Weiß, Grau, Rot, Pink, Orange, Dunkelbau, Gelb, Dunkelgrün, Grün, Hellbau)
– Grundplatte Holz. So ist der Joystick ganz aus Holz.
Amiga-Games mit 2 Button Support:
1943 (WHDLoad)
ADoom
After the War [Dinamic] (WHDload – 2nd button=Kick)
Agony (WHDLoad/original?)
Aladdin
Alien 3
Alien Bash 2
Alien Breed 2
Alien Breed – Tower Assault (CD32 joypad support)
Alien Breed 3D (CD32 only?)
Alien Breed 3D2 – The Killing Grounds (CD32 joypad support)
Apidya
Arabian Nights (CD32 only – 3 Assignable buttons: Attack, Inventory On/Off, Jump)
Astro Marine Corps (WHDLoad)
Badlands (WHDLoad – 2nd button=Fire Bullets/Missiles)
Banshee
Base Jumpers (_except_ CD32 – 2nd button=Bonus points — when pressed a few times)
Battle Squadron (WHDLoad)
BC Kid
Black Viper
Blastar [Core] (2nd button=Smart bomb)
Brutal Sports Football
Bubba'n'Stix
Bubble and Squeak
Cabal (WHDLoad – 2nd/Blue button=Grenades (remap); CD32 joypad – Play button=Pause)
Capital Punishment
Chaos Engine (CD32 only)
Cool Spot
Deluxe Galaga
Dennis
D/Generation (CD32 only)
Desert Strike
Dragonstone
Exile AGA (CD32 joypad support)
F1GP
Fifa International Soccer
Fightin' Spirit
Fire and Ice
Fire Force
Flashback
Football Glory
Ghost 'n' Goblins (WHDLoad)
Giana Sisters Special Edition (WHDLoad – 2nd/Blue button=Jump)
Gloom Deluxe
Golden Axe
The Great Giana Sisters (2nd button=Jump)
Hybris (WHDLoad)
Joe & Mac: Caveman Ninja
John Madden American Football
Jungle Strike
Keen Dreams
Kick Off 3 (2nd button _required_ to play)
Kick Off 3: European Challenge
Leander
Legends
Lionheart
Lollypop
The Lost Vikings
Marvin's Marvellous Adventure (_requires_ CD32 joypad)
Mean Arenas (CD32 only – 2nd button=Bomb)
Mega Typhoon
Mercs
Mega Twins (WHDLoad)
Miami Chase (WHDLoad – CD32 joypad support: Play button=Pause, Green=Escape, Blue/2nd button=Show Map)
Midnight Resistance (WHDLoad)
Mortal Kombat
Mortal Kombat 2
Mr Nuts
Nigel Mansell's World Championship
NightBreed (2nd button=Run)
Ninja Mission [Arcadia]
Ninja Warriors (WHDLoad – /2 buttons joystick modes/: 1st button=Use Knife, 2nd=Throw 1 shuriken)
North & South (WHDLoad – 2nd button=Select Unit; CD32 joypad/joystick control for both players)
Payback (CD32 and PSX — with special interface — joypad support)
Pegasus (WHDLoad)
Powder
Primal Rage (2 buttons Option: 1st button=Normal Moves, 2nd=Special Moves)
Project X
Puggsy
R-Type
R-Type 2
Rainbow Islands (WHDLoad)
Roadkill
Ruff'n'Tumble (WHDLoad)
RVF Honda (WHDLoad – 2nd Joypad/Blue button=Accelerate)
Sarcophaser (WHDLoad)
Shadow Fighter (CD32 only)
Shadow of the Beast 3 (WHDLoad – 2nd button=Weapon Change)
Shaq Fu
Shinobi (WHDLoad – 2nd button=Trigger "Banzai")
Skeleton Krew
Snow Bros
Soccer Kid (CD32 only – 2nd button=Jump)
Solomon's Key
Solomon's Key 2 (2nd button=Retry Level / Level Selection Options)
The Speris Legacy
Treasure Trap (WHDLoad – CD32 joypad=Pickup/Drop, Map, Smartfish)
Spherical Worlds (WHDLoad)
Stormlord (WHDLoad)
Street Fighter 2
Super Obliteration
Super Skidmarks
Super Stardust (WHDLoad – CD32 joypad support on standard/floppy version)
Super Street Fighter II
Super Street Fighter II Turbo (CD32 joypad support)
Superfrog (CD32 only – 2nd button=Jump)
SVIW (WHDLoad – 2nd button=Jump Buggy)
Tiger's Bane (CD32 joypad support)
Toki (WHDLoad)
Tony & Friends In Kellogg's Land
Top Gear 2 (CD32 only)
Total Football
Turrican
Turrican II
Turrican 3
Uropa 2 (CD32 joypad support)
Virocop
Whizz
Wing Commander (CD32 only)
Wipeout 2097 (CD32 joypad support)
Worms: Director's Cut (CD32 joypad support)
X-Out
XP8
Xtreme Racing
Yo! Joe!
Z-Out
Ziriax (WHDLoad – 2nd button=Weapon Selection)
Quelle: EnglishAmigaBoard
Wer einen Joystick haben will, der schreibe mich an. So wie immer. Ach ja: Es kommt auch noch bald eine Webseite dazu.